10:40 pm Posted by Nicola
Teachers like gift cards. Period.  Over the years I've agonized over which unique and appreciated yet not-too-personal gift to give to my kids' teachers.  Then I decided to ask a friend who is a school administrator what the view from the teacher's lounge is on this subject.  And that's how I learned that teachers like gift cards.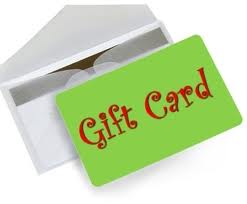 So for the past couple of years I have presented a gift card along with one of our family photo Christmas cards inscribed with words of appreciation.  But however heartfelt the words, it still feels somewhat impersonal so I decided to look for ideas of how to 'personalize' the teacher gift card with an accompanying inexpensive gift this year.  Here's the best of the ideas I found.
For the home: attach a Lowes or Home Depot gift card to a DIY magazine, a small flashlight or one of those small tools available at the checkout around the holiday season.
For the family: attach a movie theater gift card to a box of microwave popcorn, or a local pizza place gift card to a pizza cutter.
For the hobbyist: for the craft lover, include a gift card to Michaels with any small craft or decorating item from that store.  For the athlete, attach a sports store gift card to a water bottle or Power Bar.  Give the gardening enthusiast a small plant or pair of gardening gloves with a garden center gift card nestled inside.
Consider these gift card 'extras' if you plan to give your child's teacher a gift this holiday season.  But as we already highlighted in a recent blog, the gift of thanks always the best gift a teacher can receive.