The New Year is only a few short weeks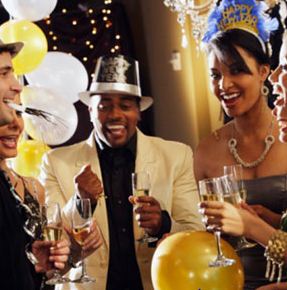 away, and if the social butterflies inside of you are screaming to host a New Years party, then you need to start planning fast.  There are many things you will need to do and decide to start planning your party.  Here are a few do's and don'ts when planning your New Year's Party.
Don't
Don't wait until the last minute to send out your party invitation, as your invitees are already making their plans ahead of time.  Be the one to get your holiday party invitations out first so you can have a better chance of having a well attended party.
Don't provide the alcohol at your party.  Save money and make it a BYOB party and ask that your guests keep it discrete, meaning, the use plastic cups instead of visual open containers.  This will keep the pressure off your guests about hesitations they may or may not have with drinking alcohol out in the open.
Don't let your guests go hungry.  You don't have to break out a four course meal, but have some snacks and hors d'oeuvres  available either in one place or spread throughout the party.
Do
Have a lot of space for your guests, and this depends on how many people you invite.  You want your guests to feel comfortable, so provide them with choices, like indoor and outdoor areas to sit and visit.  Create a different atmosphere in each room.  For example, you may have a garage area for card playing, a den area for television and an outdoor area for a fire or music.
Do have a plan to offer rides home for guests that have had too much to drink.  You may want to even have a place where they can rest or sleep for the night.  Be a responsible host and take their keys at the door, and then hand them back out only after they have passed your tests or arranged for a designated driver.
When sending out the invitations, do express the things that are important to you like BYOB, having a designated driver or other things they can expect.  This will make your guests feel more comfortable and decide whether or not they wish to attend your party.
10:20 am Posted by Nicola
Think you might be getting engaged soon?  19% of all engagements occur in December, more than any time of year including Valentine's Day. But before you put a ring on it and starting thinking about save the date cards, here are the pros and cons of a December engagement.  Read on and perhaps you'll be swayed to either wait or go-ahead with your asking or accepting!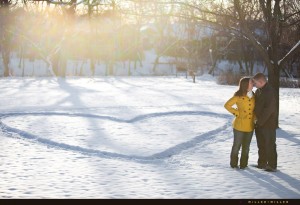 Pros of a December engagement
The holiday season is a great opportunity to spend time with extended family on both sides. Having your families nearby is a meaningful way to include them in your engagement celebration.
The holidays are full of moments that easily lend themselves to a proposal. Decorating the tree and passing a new sparkling 'ornament', or building up the week's Hanukkah presents leading to the ultimate gift of a ring.
The general anticipation and excitement of Christmas and New Year's Eve can set a wonderfully festive tone for your wedding proposal evening.
Cons of a December engagement
Be aware that the engagement may be overshadowed by the holiday season.  Consider if your partner would rather have a wedding proposal on its "own" day, instead of on Christmas or New Year's Eve.
The holiday season can bring a lot of stress, and suddenly having to think about wedding planning on top of it all may seem overwhelming to some.
Your proposal may not feel very private or intimate with so many family members around. 
Whether your preference is a fun and rowdy proposal amidst family or an intimate moment just for two, we extend our best wishes at this special time.  And when your wedding planning gets underway; consider the diverse selection of wedding stationery available at LookLoveSend.com.  Our stationery selection features beautifully coordinated elements such as save the date cards, wedding invitations, and wedding thank you cards.  Order quantities over 50 ship for free.