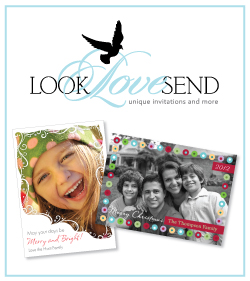 Why create Christmas cards online? For the sake of convenience, speed and the opportunity to send a truly beautiful and meaningful holiday greeting to family and friends. Nothing beats the convenience of shopping at home, particularly when dealing with the limited parking spaces, crowds and cashier lines of the holiday season. Buying Christmas cards online allows you to browse a broad selection of fantastic designs and easily personalize them within a matter of minutes instead of hours. At LookLoveSend, all orders ship the next business day and superior service and customer satisfaction are always guaranteed.
Create Christmas Cards Online to Mail
The great personal sentiment of a Christmas card is at risk in this age of the electronically sent e-card. Personalized Christmas cards that the recipient can touch, hold, and display always bring a stronger emotional response than e-cards. A card printed on paper will also be enjoyed by more people, and the touch and feel of a printed card is far more engaging than simply viewing the card on a computer screen or smartphone. It is easy to create Christmas cards online at LookLoveSend.com, yet the resulting paper card shows the recipient that you took the time to choose, personalize, buy and mail your greeting rather than sending a generic e-card. Choose from a collection of fresh holiday designs ranging from traditional and serene to modern and chic. Text on all cards can be easily customized and many cards allow the addition of one or more photos for further personalization. Many of our cards also offer a coordinating background design on the reverse side of the card to add beautiful color and interest to your card's backing.
As people spend more hours on websites, checking smartphones, and conducting business transactions online, make sure your Christmas card stands out by sending a high quality card by traditional mail. Shop LookLoveSend.com to create Christmas cards online with convenience and speed with a stylish and fresh end product.