Have you ever received a baby shower invitation announcing that it will be a gender reveal party?  It's not as uncommon as you'd think.  If you think you'd like to learn the gender of your newborn along with your closest family and friends, read on for some ideas shared by parents who did.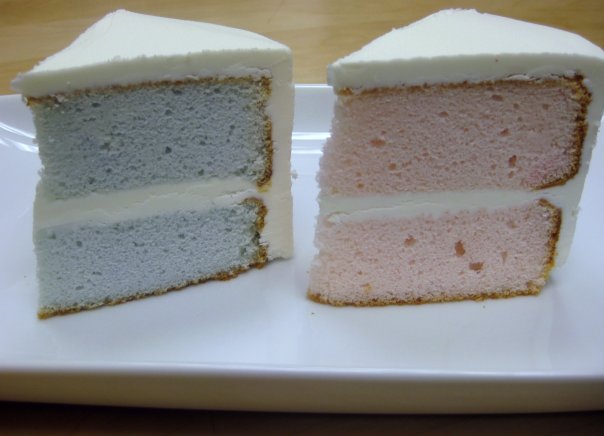 Ask your sonogram technician to write the sex of your baby inside a sealed envelope and take this to a bakery.  Ask the cake shop to create a cake with white frosting and neutral decorations – but with either pink or blue coloring added to the cake batter as appropriate.  All eyes will be on the cake when it's time for the expectant parents to cut!
Take the sealed gender envelope to your local party store with a large empty box.  Ask someone at the store to fill the box with either pink or blue helium balloons and then to fully seal the box.  At your shower, open the box and all see what floats up!
This next option takes a little work and is for the parents who have found out but wish to make a reveal during the shower.  Knowing the gender of the baby, buy black balloons (so you can't see inside) and fill them with either pink or blue confetti (pouring with a funnel).  Fill balloons with helium and give each guest a balloon upon arrival.  At the right time, hand each guest a pin and countdown for everyone to pop a balloon at the same time.  It'll make a mess but be a lot of fun when guests are 'showered' with gender-colored confetti!
If you're expecting, see the fresh collection of baby birth announcements available at LookLoveSend.com.  And if you're planning a shower for someone else, checkout our stylish selection of baby shower invitations – they can be selected for baby boy or baby girl…or neutral – perfect for that gender reveal shower!