Are you recently engaged and trying to pick your 2012 or 2013 wedding date?  If you're planning to send Save the Date cards, nailing down the date, time and location is one of the most important first steps of engagement (after buying 10lbs of wedding magazines to start admiring dresses, of course!) Ultimately, if you have your heart set on a particular month and/or reception venue, your choice of dates may be instantly limited or set.  But if you don't have an immediate first choice, here are some tips for selecting your all-important wedding date.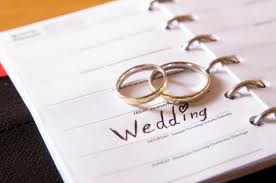 Wedding dates to avoid:
Days surrounding significant U.S. holidays such  as Thanksgiving, Memorial or Labor day.  Many guests will have annual traditions or pre-existing plans for those days.  Consult The Knot for a full list of 2012-2103 holiday dates to consider avoiding.
Superbowl Sunday or the week of the World Series  (particularly if you know you have die-hard fans on the guest list) – you want  to make sure your wedding is top priority and guests aren't sneaking to a nearby TV screen or overly preoccupied with their smartphones.
If many of your guests are Christian, you'll want to avoid Holy Week (from Palm Sunday through Easter Sunday) or dates just before Christmas.
If many of your guests are Jewish, avoid Friday evening weddings and Saturday weddings before sundown.
If the parents of either the bride or groom are divorced, don't get married on their wedding date – best to avoid this potentially uncomfortable scenario!
Consider the schedule of those wedding party members or very special guests who you absolutely HAVE to have at your wedding.  Adjust your date upfront so they can attend (but once you have set your date, don't budge!)
Budget may also affect your choice.  Saturday evenings are prime time (therefore prime money) and the most popular months of June, August and September will also generally cost more.   Or perhaps you want to pick a date based on a meaningful date or event – a St Patrick's day event to celebrate the union of two families with proud Irish ancestry, or the anniversary of your first date or proposal.  If you pick a date with personal significance, be sure to include that in your ceremony programs – your guests will love to read about this while waiting for the ceremony to begin!
And finally, just a heads up…the following quirky dates are unique and easy to remember…but their calendar days are probably less than ideal.
10/11/12 = a Thursday 12/12/12 = a Wednesday 11/12/13 = a Tuesday
When you've picked your special date, shop the fresh collection of Save the Date cards available at LookLoveSend.com.  Enter our January sweepstakes for a chance to win up to $500 of fantastic customizable wedding stationery!