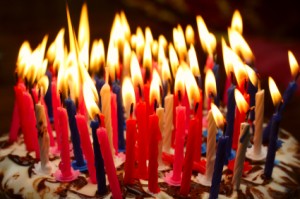 Remember when turning 40 meant "Over the Hill" party invitations and black balloons? Thanks to older first-time parents, acceptance of a burgeoning "cougar" culture, and other more contemporary views on age (such as "60 is the new 40″ ), 40 really isn't something to feel so somber about anymore.
Unless, of course, you're the one turning 40.
Or 50. Or 30, or some other turn-of-the-decade that isn't 21. How do you handle celebrating these milestones with a loved on or friend?
Mow the number onto their front lawn.
This was done to my own father some many years ago. The grass was mowed so short it turned brown and died. My dad was "40″ for the next 3 years. Sad thing was he was a lawn man, too! Next…
Hit the casino.
Not just for those in driving distance of Atlantic City, Biloxi or Vegas, you can likely stay local with casinos finding their way into every region of the country. Even on a tight budget, dollar slots and all-you-can-eat buffets make this a workable way to carouse with friends.
Private gathering.
A special dinner either at a restaurant or in a private home with a special group of friends and family is not just safe, it's probably the most meaningful way for everyone to be involved and show their love for the guest of honor.
Ticketed getaway near or far.
If budget isn't an issue, surprise a loved one with tickets to a destination on his or her bucket list. Go big: Montana, Hawaii, Rome, Bangkok.  For a smaller budget, tickets to an off Broadway show/Nascar Race, a spa/golf weekend away from home could delight.
Surprise party.
You need to know whether the guest of honor is in a celebratory mood about reaching this milestone. Also think about whether their personality can handle the element of surprise (control issues might make you reconsider). Invite as many guests as their age and have each guest write a brief note on something meaningful, such as an enlarged photo of the guest of honor from childhood.
For a selection of personalized party invitations you can easily customize for the event, shop www.looklovesend.com. Ordering online is fast and easy, for quantities as low as 10. Invitations with coordinating envelopes are printed on premium quality paper stock and your order gets shipped the next business day.