Have you ever attended a wedding or rehearsal dinner that featured a groom's cake?  I haven't but am guessing that many in the South would say otherwise.  And for how many does the idea of a groom's cake conjure up the image of that horrendous bleeding red velvet armadillo on a plate in the 'Steel Magnolias' movie?  So just how long has the groom's cake been around, and how  prevalent is this wedding tradition?  Read on for the basics of the groom's cake.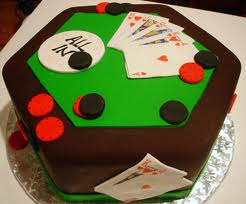 The groom's cake originated in England in the Victorian era when, in addition to the main wedding cake, there was also a groom's cake and a smaller bride's cake.  At end of the wedding these two cakes were sliced and served to the groomsmen and bridesmaids.  During these early days, the groom's cake was a traditional fruitcake but in the 18th Century the introduction of processed flour and baking soda brought the wedding cake as we know it today.
Today, groom's cakes are usually made of dark chocolate and often contain fruit or liqueur.  Not surprisingly, cake decorations are often reminiscent of the groom's favorite team, sport or other chosen activity.   Indeed, many brides embrace the idea of a groom's cake to specifically give the groom – and his interests – a special place in a celebration this is traditionally focused on the bride.
Some will serve the groom's cake at the rehearsal dinner, others at the wedding itself as a wedding cake alternative.  Another tradition is to box up cake slices before the wedding and to present it to the unmarried women at the reception.  The associated myth is that if an unmarried woman sleeps with a slice of groom's cake under her pillow, she will dream of her future husband.
If you are getting married and planning a traditional wedding, consider adding a groom's cake to your selection of sweet treats.  And for spectacular wedding invitations – whether traditional, modern or vintage in style, checkout the diverse selection at LookLoveSend.com.  Sign up for our free monthly sweepstakes for a chance to win $500 of wedding stationery for your special day.