10:24 pm Posted by Nicola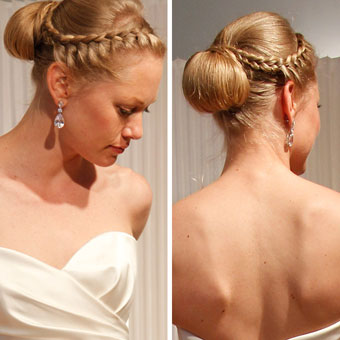 The updo–a classic look for wedding season, and an alternative to the recent trend in braids for brides.  We've all seen the fashion magazines detailing the various celebrity updo sightings, from sleek bun to disheveled twist to romantic knot.  But the wedding updo has a few more rules and recommendations, as shared by celebrity stylist Julien Farel in the March edition of Brides magazine.
The recommended time for your updo practice session is two months before your wedding, just around the same time as you are arranging favors, ceremony details and mailing your wedding invitations.
DO choose an updo that flatters the shape of your face.  For example, making the crown taller can thin out a round face and stray hair tendrils will soften a square jaw.
DO schedule a practice session with your hairstylist and take photos of your updo from every angle.  Take this opportunity to ensure that you'll love your wedding candids from every angle.
DO make sure that any highlights are also applied to the underside that will be exposed by your updo.  Bring your colorist a photo from your practice session so she will know exactly where to apply her color magic.
DON'T buy an expensive hair clip, headband or other hair accessory until after you have had your practice session.  Much better to experiment with a cheaper drugstore version in the event that it doesn't match your chosen updo style.
DON'T try a look for your wedding day that completely differs from your everyday look.  Make sure you are comfortable with your chosen style – and that your groom will recognize you at the altar!
Make sure you book your appointment well before the two-month mark, and talk with your stylist also about any color treatment such as highlights. Once you make that appointment, go ahead and start browsing for your wedding invitations, since you'll need to have the addressed, stamped and ready to mail around the same time. LookLoveSend will ship your order the next business day and if you're ordering more than 50 ground shipping is free!